5 Independent Small Shops for the Best Gifts
Every holiday season, I always think to myself – this is the year I will shop small.
But I'll admit that for the last several years, I've procrastinated in my shopping and a large amount of the presents I got for people came from Amazon. Amazon isn't a bad thing (hey, I love Prime just as much as the next Prime Member, haha…) but this year I thought I would challenge myself to shop small and independent retailers for real.
I've shopped craft shows, vintage markets, small boutiques in my hometown… and then I turned to the internet. And I was not disappointed.
There are so many independent, small boutiques with online storefronts that it can be super overwhelming. So here are 5 of my favorite online independent small shops that are packed with awesome options for pretty much anyone on your list.
Bourbon & Boots – For your friends, your sister, and your hipster brother-in-law
I love Bourbon & Boots!
Bourbon & Boots is a Southern lifestyle online boutique that curates unique, artisan goods. Like the College Town Alumni Etched Map Whiskey Glasses pictured to the left there (they offer more than just Clemson; there are 80 college towns to choose from!).
The home section is my favorite, but they also offer jewelry, bags, t-shirts, barware, and more. One of the more cooler items on the site are the pieces of furniture made from reclaimed bourbon barrels. If you're looking for a unique gift, I think you've found the right place!
Pop Chart Lab – For your kids, your spouse, your parents, or your bff from work
This shop is so cool.
Pop Chart Lab specializes in really amazing and incredibly detailed posters on a variety of subjects – whales, types of wine, every beer you could imagine, constellations… the list goes on. You can buy the prints by themselves (with the option to have it mounted on a panel), or have them framed for a little more.
They have posters for adults and children. I love The Alphabet of Animal Professions and plan on getting it for my kids (for their playroom) for Christmas. "F is for Frog Film Director" literally makes me lol.
Another favorite is the Myriad Monikers of Gotham's Villains – perfect for the nerd in your life.
Mouth – For basically anyone you know who enjoys eating and/or drinking
"Indie food, tasty gifts" is Mouth's motto, and also happens to be a pretty succinct summary of all it has to offer.
I stumbled upon Mouth when I was looking for coffee-related gifts. They have an amazing Java Junkie gift set, but what really sets them apart from the average gift basket company is the fact that these are small batch, limited edition foods/drinks included in the packs. It kind of ups the special factor.
The pack above is the Holiday Morning Kit (which is on my list) and another favorite I'm going to grab up for someone on my list is the Holiday Heat Fix (perfect for someone who digs spicy food and wants to try something new … sriracha bacon jerky, anyone?!).
33Books – For anyone you know who not only enjoys eating & drinking, but documenting their experience
Do you know someone who needs a tasting journal on, say, donuts?
Well, 33Books has you covered.
They also have tasting journals for whiskey, coffee, wine, scotch, cheese, oysters, tea, champagne, beer, salami, ice cream… the list goes on.
You can get tasting tools and kits as well (like a wallet that can hold not only your cards BUT your tasting journal!). Basically, if you know someone who loves documenting their foodie experiences, chances are there's a journal + some tools here for them.
I'm just saying I wouldn't be upset if  the coffee tasting one happened to show up on my door 🤷‍♀️
Boygirl Party – For your kids, your mom, or your friend/relative with the quirky sense of humor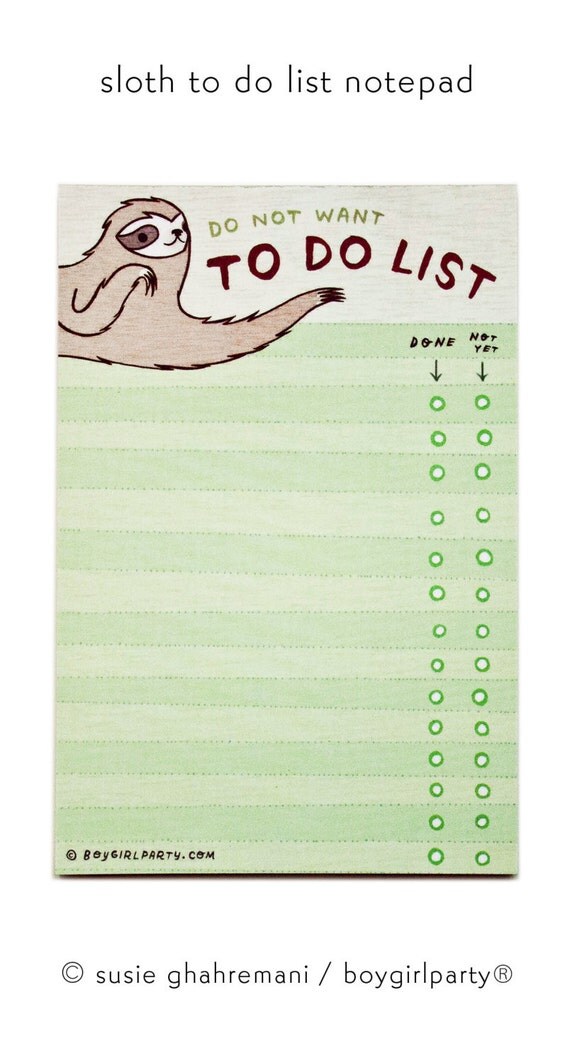 This.is.adorable.
Even though it's a notepad with a sloth who doesn't want to do his to-do list, I'd probably want to do the list that I wrote on this notepad just because I'd want to keep checking back with that sloth.
Boygirl Party has pins, notepads, shirts, totes, jewelry, cards, personalized books – all featuring adorable, original artwork by the shop's owner, Susie Ghahremani.
I really love the variety included in this shop, not just with the items, but with the animals. You can choose from foxes, dinosaurs, sloths, hedgehogs, ducks, cats… I even saw an octopus floating around.
Anything from this shop would be a great stocking stuffer, an extra for a gift basket, or even a standalone present (who wouldn't want to get this super cute fox pocket mirror?!).
Now go forth, and shop independent!
Hopefully some of these shops have helped you checked off a few more items from your gift buying list. If you have a favorite independent, or small online shop be sure to share it in the comments. Thanks for reading!